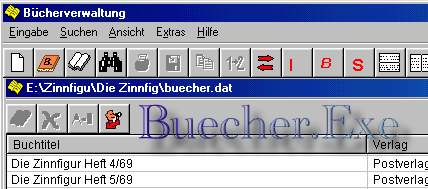 Buecher.Exe V. 5.2011.01 Update 21.05.2011
Buecher.Exe now ist completely compatible to Vista and has its own updater for the contents. V. 5.2011.02

File "Die Zinnfigur" contents (actual version 15/04/16)

Now complete since 1926!!! including "Historische Blätter" incl. map 04/16, additional map 1/1924 - 12/1924. Now you have the possibility to download the big keyword-list taken from the full texts of the "Zinnfigur" since 1/1926 to 11/14 etc. (ca. 10 MB).